...and what is it with this little guy
found in soho?
a smile and a tear in real tile
invading space...
?could the mystery be solved?
there's a lead to many more...
kame already found such lovely
handmade renegade tile artworks
of space invaders twice in tokyo,
and wrote a song about them...
after NYC, we're impatiently waiting
for space invaders to invade
san francisco as well, please...

new york, new york.
once again, kame researched vernacular public design, street art, and other inadvertencies.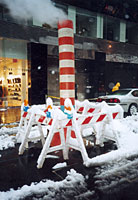 and so on...