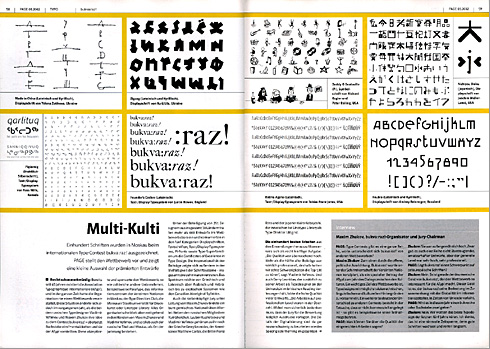 < back to kame in march 2002
< back to home
double whammy!
two articles in
page magazine, germany:
issue 03.02, march 2002
article on typeface catalogs
by independent foundries
pages 54-57
both articles by antje dohmann
article on "
bukva:raz
!" contest,
featuring kame's "nichiyou-daiku"
pages 58-60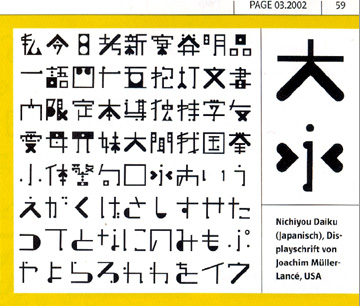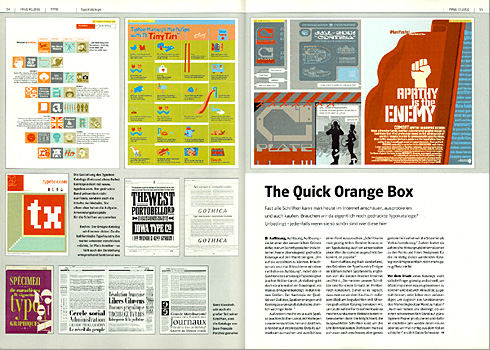 Resolution, resolution, resolution - that is one of the essential reasons why type designers today still bring printed catalogs to market -despite the Internet. "To make do without [catalogs], we'd first need screens with much higher resolution", says San Francisco-based type designer Joachim Muller-Lance. "Antialiasing is such a crying game, exactly where we would need it the most: in small type sizes. That is where proof of quality plays a rather important role: in outlines, spacing and kerning pairs."
Aside, according to Joachim Muller-Lance, it's also fun to hang around together browsing [catalogs], pointing out interesting details to each other and finally, selecting a typeface. "Type can be shared between minds. Further, a type catalog is also a conversation piece. Whoever gets the coolest ones in his mail, is popular."
Joachim Muller-Lance points out two variants: "A complete index of fonts needs information design before anything else. Users should be able to look things up quickly, by alphabet, type style etc.
On the other hand, seasonal brochures offer more space for less typefaces. Their purpose is to display both character set and text samples more thoroughly, and to offer inspiring examples for possible ways of usage - though without limiting the typeface's potential."
While, for Rudy Vanderlans, the most important aspect of designing a catalog is taking joy in the work, Joachim Muller-Lance finds it's about bringing mind and heart under one hat: "On one side, this means planning and structuring the catalog as helpful and useable as possible, on the other, to bring personality into the open spaces. We are some sort of craftspeople building instruments, on which others will play their music. Keeping such thinking in the back of one's head might certainly help many an other catalog." In this sense: The quick orange fox jumps over the hazy .fog.