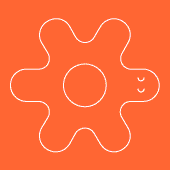 may 2003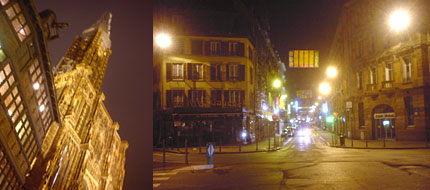 ah strasbourg...
the cathedral, the old town,
stumbling back to the hotel
after edelzwicker, choucroute,
pork, bread and conversation
looking up, down, and around
to catch a few more moments
on a small digital memory device
before chasing sleep happily
but having to leave
those who don't know history
are doomed to repeat it...
don't try this at home, kids!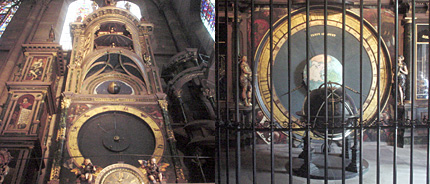 climbing a few hundred steps to the tower of the cathedral... lo and behold:
top-notch graffiti from the past 4 to 5 centuries are abound.
keep in mind that the great "horloge",
the astrononomical clock at the cathedral,
is always watching,
since the 1600s.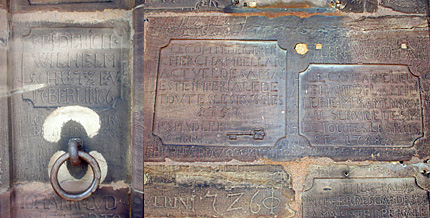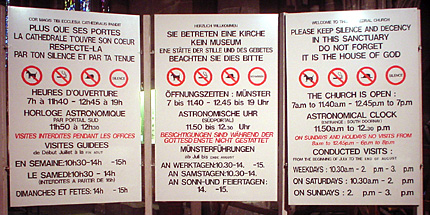 below, inside the cathedral proper, helvetica rules:
not for style, but the simple necessity of keeping brash visitors well-behaved.
if you know all 3 languages, please note the very different introductions at the top – intended for 3 different mentalities...
in strasbourg, green crosswalks are for bicycles.
so, are pink crosswalks for baby strollers?
think pink...
old or new, closed or open,
it seems "à la mode" here...
so sad to leave, after a great time...
on trains in france, watch out for cute icons:
they indicate where to use oblong vibrating items such as cel phones, and how to set their temperature.
graffiti on a traffic sign –
the devil's in the detail
creative-adhesive lettering at the "hotel trois roses"
creative-adhesive TV mount at the "hotel suisse"